The Austin Air HealthMate® was designed to address your everyday air quality concerns. It removes a wide range of airborne particles, chemicals, gases, and odors and will significantly improve the quality of air in your home. 
HeathMate is designed for air purification to clean rooms of up to 1,500 square feet.
Healthmate Air Purifiers give you reliable protection against a variety of airborne contaminants, from common household allergens to smoke and chemical odors. Made in the USA, Austin Air purifiers are reliable protection against everyday air quality problems. 
Key Features
Remove dust, pollen, tobacco smoke, chemical vapors, gases, viruses, bacteria, and more
Are ideal for allergy and asthma sufferers and those who have chemical sensitivities
Feature a 360-degree filtering system that draws air in from all sides of the unit and passes it through a 4-stage filter for the most thorough air filtration
Trap 99.97% of airborne particles as small as 0.3 microns and 95% of particles that measure 0.1 microns and smaller
Need filter replacement only once every 5 years - an economical choice
Require minimal maintenance, just periodic vacuuming of the steel outer housing to ensure optimal airflow and a good wipe-down to keep the surface sparkling clean
Your First Line of Defense is Clean Air

Clinical trials conducted by Johns Hopkins and Cincinnati Children's Hospital show that Austin Air Purifiers improve overall respiratory health. 
Austin Air's signature 360-degree progressive filtering system removes odors and chemicals from your home. 
Air passes through a 4-stage HEPA/carbon combination filter and is blown back out into your room using the Clean Air Pocket vent. This extensive filtration system cleans your air faster and more efficiently than conventional air purifiers.
4-Stage Filtration System
The HealthMate Air Cleaners 4-stage combination filter includes:
PERMAFILT Pre-Filter -

 

During stage 1, air passes through a cotton PERMAFILT pre-filter, which captures particles easily seen by the naked eye, such as large dust and pet dander particles.
Medium Particle Filter -

 

Next, a medium particle filter traps small- to medium-size allergens, such as mold, pollen, and dust mites.
Carbon Blend Filter

 

– Next, air moves through a 15-pound carbon and natural zeolite filter where odors, chemicals, gases, fumes, and VOCs are absorbed and locked away.
Medical-Grade HEPA Filter

 

- Lastly, air glides through 60 square feet of true medical-grade HEPA (High-Efficiency Particulate Air) material where it is scrubbed free of harmful bacteria and viruses as well as smaller pollen, mold, pet dander, dust, and ragweed particles.
Overall, this long-lasting combination filter eliminates 99.97% of airborne pollutants and more than 3,000 types of toxic gases and odors. 
Long-Life Filter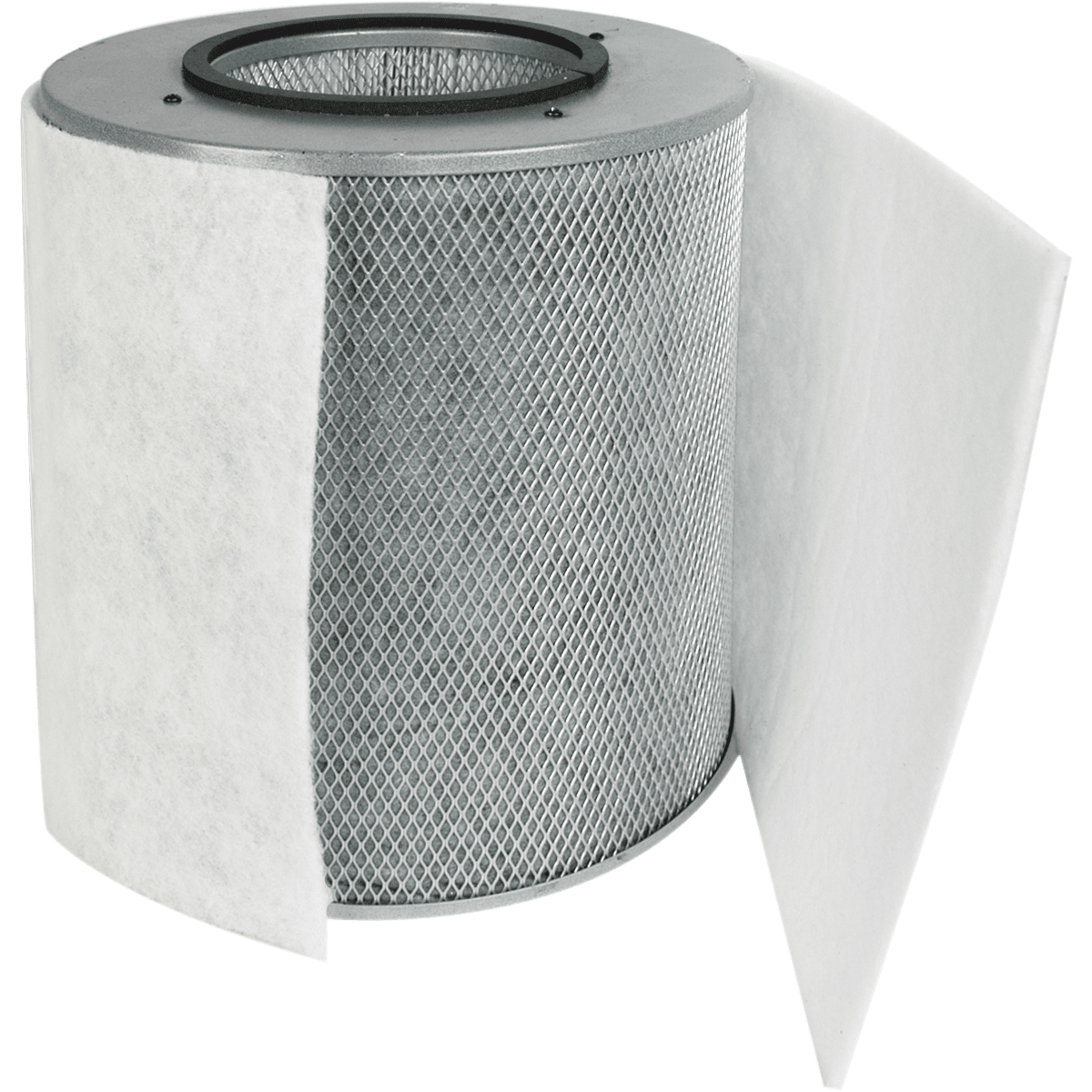 The combination HEPA/carbon filter needs to be replaced only once every 5 years under typical use to help save you money on costly filter replacements.
Durable and Efficient
Austin Air HealthMate is made in the USA and is constructed with sturdy, long-lasting components that boost efficiency and energy savings. 
The long-life PSC motor is rated for continuous use at high RPMs and is mounted on shock absorbers to minimize noise. When running, the Healthmate motor draws less current and reduces your operating costs by 50% when compared to other air purifiers.
Additional Features
Here are some of the additional features of Austin Air HealthMate:
Easy Controls: Choose from 3 purification speeds using the simple manual knob control.

Smooth-Roll Casters: Casters come standard with the HealthMate.

Independently Tested: HealthMate has been independently tested for filtration effectiveness by third-party and U.S. government labs.

Easy Filter Changes: Just remove the bottom cover of the air purifier to access the old filter and replace it with a new one.
SPECIFICATIONS
FILTER MAINTENANCE
Vacuum Prefilter regularly and change every 12-18 months
Change HEPA/Carbon Filter every 4-5 years
Manufacturer's Warranty
5-Year Mechanical
5-Year Pro-Rated Filter warranty
WHAT'S IN THE BOX
1 – Austin Air Healthmate Air Purifier
1 – 1 of each filter required
1 – Owner's Manual
READY TO ORDER YOUR OWN Austin Air Healthmate Air Purifier?
Order your Austin Air Healthmate Air Purifier securely and safely online. We ship all orders within 3-5 business days with Free FedEx shipping. Your new air purifier comes with a full 5-year warranty.
For Questions, 
Please Call or Text US: 
888-987-3817

Add Austin Air Healthmate Air Purifier to your shopping cart today! We accept all major credit cards, PayPal, and financing with Klarna.

Your transaction and privacy are
100% safe and secure.