Air Treatment Products to Breathe Clean Air
If you experience indoor air quality issues, Good AirX is here to help. Our products help solve air treatment problems like airborne allergens, humidity problems, mold remediation, smoke and wild fires water damage restoration, and safe cleaning alternatives. Shop for brand new air purifiers, air conditioners, and dehumidifiers.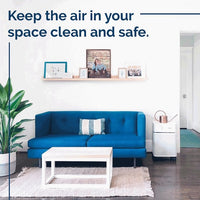 Clean and Safe Air
Keep the air in your space clean and safe with air purifiers. Reduce harmful chemicals, noxious gases, smoke, VOC's, formaldehyde and sub-micron particles. 
Air purifier protects against contaminants. Using a combination of Medical Grade HEPA and a unique carbon blend, air purifiers are designed to remove a wide range of airborne contaminants, including viruses, bacteria, and allergens.

Financing For All Credit Types
We provide easy and affordable financing for air purifiers, air conditioners and dehumidifiers through our partner PayTomorrow. Instant evaluations. Check your rate now without affecting your credit! Simply add your products to the cart and checkout with PayTomorrow on the payment page.
LEARN MORE