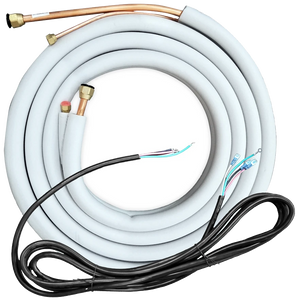 Product Overview
MRCOOL 3/8" x 5/8" Line Set Kit for 24,000 & 36,000 BTU Indoor Air Handlers from MRCOOL Olympus and Advantage Mini Split Systems. Comes in 16 feet, 25 feet, and 50 feet lengths.
Note: This line set kit does not come pre-charged. 
Set Includes:
Liquid Line 3/8 in. 
Suction Line 5/8 in.
Control Wire
Compatible Models:
MRCOOL Advantage 24,000 BTU Mini Split w/Heat Pump
MRCOOL Advantage 36,000 BTU Mini Split Heat Pump
MRCOOL Three Zone Olympus 48,000 BTU Mini Split w/Heat Pump 12k+12k+24k*
*Only compatible with the 24,000 or 36,000 BTU air handler. Other BTU air handlers will require different line sets.*
What's In The Box?
3/8" Liquid Line
5/8" Suction Line
Control Wire